Authorities have denied giving mixed messages on public safety following the Salisbury nerve agent attack after an official said "toxic" levels of the chemical were still present.
The Department for Environment, Food and Rural Affairs (Defra) insisted the city was safe after its chief scientific adviser, Ian Boyd, told a public meeting novichok could still be harmful in "very specific locations" where it remains in high concentrations.
"We do know that there are hotspots like that around, so we have to make those assumptions that some of the hotspots we've still got to find," he added.
The statement sparked fresh uncertainty in Salisbury, where residents have expressed outrage over the way information on operations and safety advice has been relayed to the public.
Officials previously revealed a small amount of the deadly nerve agent was put on former double agent Sergei Skripal's door handle in liquid form, and then spread around Salisbury by affected people and items.
The hotspots are contained within nine cordoned off areas where decontamination operations are starting to return them to public use.
"As Public Health England (PHE) have stated, Salisbury is safe for residents and visitors," a spokesperson for Defra said. 
"All work undertaken on each site will take appropriate measures to ensure that there is no additional risk to the public.
"There is no need to take any additional precautions. Cordons are in place to protect the public from any potential risk."
But several of the locations were not cordoned off immediately after the incident, with a pub that Mr Skripal and his daughter visited shortly before falling ill only being sealed off two days later.
Hundreds of people who visited The Mill and a Zizzi restaurant where the pair ate were only given "precautionary" advice to wash their clothes and belongings a week after the incident.
As PHE reiterated advice that the risk to Salisbury residents was low, hundreds of military personnel wearing protective equipment swept in to examine sites across the city and remove dozens of vehicles, including some that had been in use.
Residents told The Independent they were "scared" by the dramatic operation and accused authorities of stoking uncertainty and fear with a drip feed of changing information.
Priscilla Bernard, 70, pointed out that the bench where Mr Skripal and his daughter collapsed was not removed for several days, adding: "It has all been a little too late. There has been a lack of response." 
At a press conference announcing the start of decontamination work on Tuesday, The Independent asked officials if they accepted "mixed messages" were given following the attack.
"We think that at a lot of the sites the risk is likely to be quite low because of that secondary and tertiary transfer," a senior Defra representative replied.
"People can be as reassured now as they have been from the messages from PHE that Salisbury remains safe outside the cordons."
Skripal attack aftermath – in pictures
1/13





Investigators in protective clothing remove a van from an address in Winterslow near Salisbury in Wiltshire, as police and members of the armed forces continue to investigate the suspected nerve agent attack on Russian double agent Sergei Skripa

PA

2/13





A police officer on duty near the protective tent which covers the bench where a man and woman were apparently poisoned with what was later identified as a nerve agent, in Salisbury

AFP/Getty

3/13





Military in protective clothing prior to removing vehicles from a car park in Salisbury

EPA

4/13





Personnel in protective coveralls and breathing equipment cover an ambulance with a tarpaulin at the Salisbury District Hospital

AFP/Getty

5/13





Home Secretary Amber Rudd visits the scene of the nerve agent attack in Salibsury

Getty

6/13





Members of the emergency services in hazard suits fix the tent over the bench where Sergei and Yulia Skripal were found

Getty

7/13





Officials in protective suits check their equipment before repositioning a forensics tent

Reuters

8/13





A poice officer stands guard outside a branch of the Italian chain restaurant Zizzi

AFP/Getty

9/13





Detective Sergeant Nick Bailey, who assisted the Russian ex-spy targeted with a nerve agent, was also hospitalised

PA

10/13





Sergei Skripal days before he was exposed to a mystery substance that has left him fighting for life

ITV News

11/13





Police officers outside Sergei Skripal's home

Getty

12/13





Sergei Skripal speaks to his lawyer from behind bars seen on a screen of a monitor outside a courtroom in Moscow.

AP

13/13





Yulia Skripal, who is thought to have been poisoned along with her father, Sergei Skripal

Facebook
Four new barriers have been installed around The Maltings shopping centre, The Mill pub, and Zizzi restaurant and Riverside House for chemical cleaning, which is expected to take months and cost millions of pounds.
Wiltshire Council said the enlarged cordons would allow the task to be carried out safely and thoroughly by up to 200 specialist military personnel, adding: "Safety remains paramount. The city is safe outside of the cordoned sites."
A police station, council building and ambulance stations will be prioritised in the work, which will also see Mr Skripal's home and that of Detective Sergeant Nick Bailey cleaned and then retested for traces of novichok.
It will focus on a police evidence room and two lockers inside Bourne Hill station, with services temporarily moved to other locations in and around Salisbury.
Mr Skripal's house is still part of the ongoing police investigation and will be the last to be released for decontamination.
Dozens of conspiracy theories over the Salisbury attack have emerged and Russian authorities have questioned the UK's evidence, while British officials have accused the Kremlin of concocting "fantasies" amid an investigation into state broadcaster Russia Today.
Russia's ambassador to the UK sensationally suggested that the Skripals may have been injected with nerve agent produced at Porton Down's Defence Science and Technology Laboratory on Friday.
Alexander Yakovenko called refusals to allow access to the victims tantamount to "an abduction of two Russian citizens" and accused Britain of lying over the case, a chemical weapons attack in Syria and cyber attacks.
He claimed that a classified report by international inspectors said novichok found in the victims' blood samples showed little sign of decomposition, even though the agent would normally be expected to react with naturally occurring chemicals inside the body.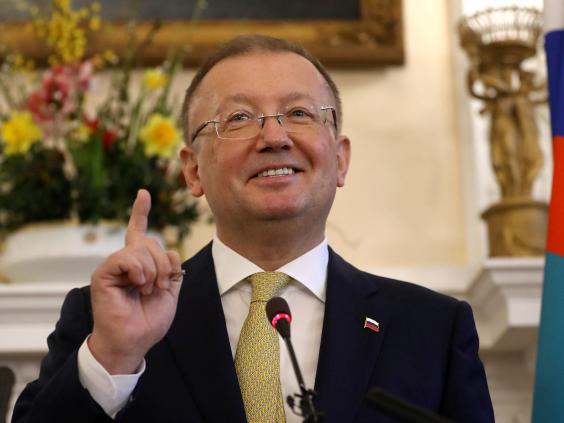 "This is strange, given that 18 days passed between the poisoning and the arrival of the OPCW in the UK," said Mr Yakovenko.
"It might mean that the chemical was intentionally injected just before the blood samples were taken."
He repeated a frequently circulated but unsubstantiated theory that the speed with which the chemical was identified suggested the UK already had its own samples, pointing out Porton Down's proximity to Salisbury.
International inspectors from the Organisation for the Prohibition of Chemical Weapons (OPCW) confirmed Britain's assessment that novichok, a group of nerve agents developed by the Soviet Union, was used in the attack.
They noted that the chemical was "of high purity", meaning it degrades slowly and does not produce significant vapour or gas.
But Mr Yakovenko challenged OPCW's independence investigation, claiming experts worked "under the control of the British side".
Mr Bailey and Ms Skripal, 33, have both been released from hospital but her 66-year-old father remains in a serious condition.
The British government accused Russia of culpability in the attack and said the country's intelligence agencies had been spying on the Skripals for at least five years.
The class of nerve agents was created by the former Soviet Union, but Vladimir Putin's government has denied ever developing it – and also said all chemical stockpiles were destroyed.
The Kremlin says it was not involved in the attack on Mr Skripal, who moved to England following a high profile spy swap in 2010, but it has sparked the expulsion of Russian diplomats by Britain and its allies.
Tensions have worsened further in the wake of an alleged chemical attack by Bashar al-Assad's forces on the rebel stronghold of Douma in Syria, sparking British, American and French airstrikes on Russia's ally.
Reuse content
منبع مطلب : http://www.independent.co.uk/news/uk/home-news/salisbury-chemical-nerve-agent-still-present-authorities-deny-mixed-messages-a8314916.html