"My dad can't talk about that, he gets so choked up," says Olympic diving champion Chris Mears. The 25-year-old Briton is remembering the day nine years ago, at the Sydney Youth Games, when the force of a somersault into the pool ruptured his spleen, causing his insides to haemorrhage blood until he collapsed. Over 7,000 miles away, while working in Dubai, his father received a shattering phone call explaining his son had only hours to live.
"My dad basically thought he was getting on a flight to take my body back," says Mears. "In hospital I was given a five per cent chance to live because I'd lost so much blood and no one knew what the hell was going on. When I went into theatre there was almost no hope. I remember bits and pieces, but most of it was Australian people shouting 'This guy's gonna die!' I thought it was the end, 100 per cent."
After emergency surgery to remove his spleen and four days in intensive care, Mears seemed to have made a miraculous recovery. Then, two weeks later, his family found him in his hotel room suffering a convulsive fit which lasted six hours, until he was put into an induced coma. "My parents don't talk about that much because it's quite a sensitive subject, but I think they expected me to have brain damage." Somehow, again, he survived and defied the medical predictions.
It has been an extraordinary nine-year journey from a Sydney hospital to this point, as he and diving partner Jack Laugher prepare to defend their 3m synchronised Commonwealth title on the Gold Coast on Friday. His brush with death made Mears want to take diving more seriously, but for the next two years a month wouldn't pass without him falling seriously ill. "I was training so hard and I shouldn't have been," he admits. "I didn't like being told no. My body was weak and I was constantly getting viruses."
He started to manage his workload and slowly became "in tune" his body, knowing when to push himself and when to take a rest. He moved to Leeds to train alongside Laugher, while weaning himself off medication against doctors' initial advice, and together they have conquered the discipline; 2014 Commonwealth champions in Glasgow, 2016 European champions in London and then the pinnacle, Olympic champions in Rio – winning a gold medal which now lives in Mears' sock draw.
Mears remembers standing on the podium in the Rio Aquatic Centre as an almost spiritual experience, the satisfying culmination of years battling adversity, and it gave him strength as he reflected on another defining moment in his life, the death of his mother when he was only three years old. 
"I was on the podium trying to come to terms with the fact that I'd just won 20 minutes ago. I stood there with my best mate beside me, I had my family nearby on the left of me – my dad my step-mum, my brother, my sister – and then I felt my mum above me. I had a medal around my neck, and it was just an amazing feeling. I felt so lucky, I don't know how to explain it. That was it, the best thing ever.
"I definitely think I made her proud, and I made my step-mum proud, because she's been a huge part of my diving success. She was the one who drove me to training for 10 years, so she deserves a medal for that."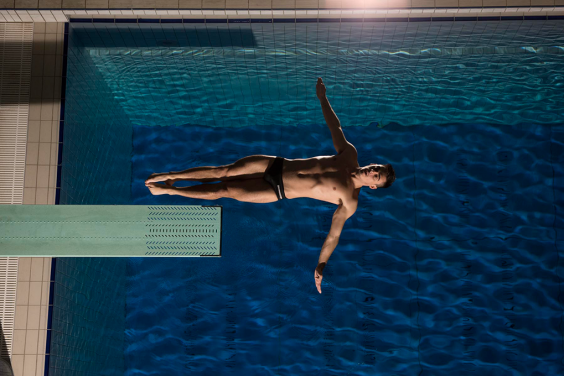 Mears has taken the pressure off himself ahead of these Games, happy just to be healthy and competing, and it is that sense of fortune and humility which pushed him to join the Chase Your Dream, No Matter What campaign, in which he helped to inspire others who have struggled with anxiety and emotional distress by sharing his story and the reality of his darker moments – and encouraged them to face their fear by jumping off the quite terrifying 10m board.
"It was really emotional but also it was personal to me," he says. "Firstly because I've suffered with those sorts of things, and secondly because I got such a buzz out of helping someone else with their fears and their anxiety."
Mears enjoys another outlet outside diving, working as a music producer, which he hopes will eventually replace sport as his full-time job and passion. He has already enjoyed great early success, working on projects in Los Angeles and performing live in front of thousands.
Now, though, his focus is on the Commonwealths, and adding another chapter to a remarkable story of perseverance in the face of adversity, in the country where his life was impacted so dramatically nearly a decade ago.
"I do think about it," he says. "Everything happened for a reason. It built me, it made me who I am, so all of my experiences led to that [Olympic gold]. I don't believe I would have even been an Olympian if I didn't go through that in Australia. I was a bit immature and that experienced matured me. It made me realised I wanted to do something with my life."
Chris is an ambassador for Chase Your Dream, No Matter What, Bridgestone's Worldwide Olympic partnership campaign in the UK. To find out more visit: www.nomatterwhat.uk.com
Follow the Independent Sport on Instagram here, for all of the best images, videos and stories from around the sporting world.
Reuse content
منبع مطلب : http://www.independent.co.uk/sport/commonwealth-games/chris-mears-commonwealth-games-2018-jack-laugher-synchronised-diving-a8301791.html