So you've rewatched The Great Gatsby, and been seduced by the idea of cocktail hour in your home. 
A home bar, you think, would provide a great social area and create a fabulous atmosphere to relax in – not to mention being timelessly elegant.
But before you go out and spend your entire salary on the perfect set up for a home bar, there's a few tricks you need to know.
Before you go shopping…
Myles Cunliffe, co-director of the Mixology Group with his wife Zoe, explains a bartender's love of equipment in these terms: "We're a bit like magpies; we like gold and silver things – but you could just as easily use a jam jar with a lid; you don't have to use a big fancy bar spoon."
He cautions against "getting too hung up" on the equipment when you could spend a little bit more money on a decent mixer ranger, or a slightly higher price of spirit bottle that you would normally buy.
"Although it's lovely to have the gold and silver shakers, big bar spoons etc, very often you could do without, and spend your money on understanding the provenance of the product you buy. There are good products, generally made by smaller companies, and if we can support the smaller companies a little bit more, everyone would benefit."
The one piece of equipment that he says he can't do without is a citrus juicer – "the one piece I'd invest in from the word go". He recommends Bonzer equipment as a high quality, local supplier. 
"Everything else," he says, "you can pretty much find in your kitchen."
Anthony Gregson, bartender trainer at Hospitality Training Solutions, advises that rather than buying all of your equipment at once, it's better to gradually acquire your tools over time, stocking the bar with ingredients that you'll come to appreciate later. 
That said, Rob del Giorno, owner/operator of 1-800-BARTEND, New York's largest bartending school, insists on a large metal shaker and a traditional Hawthorne coil strainer to start, while Gregson advises on investing in rocks and martini glassware. 
And stock your pantry: the two most important staples are bitters and simple syrup, like grenadine – Gregson explains that they're highly versatile and last for ages.
Remember, start small, shop smart. But if you insist on a spending spree, here are the best essential tools, according to the experts…
From tools…
Shaker
Strainer and fine strainer
Measuring cup
Bar spoon
Good paring knife
Muddler
Blender
Bar spoon
Elbow juicer
One mixing beaker
…To booze
This may sound obvious, but start from the ingredients necessary from your favourite cocktails – apparently, amateurs often go out and buy one of everything. Shop according to what you'll actually drink.
Tristan Stephenson, author of The Curious Bartender books, advises you to think dimensions before pretentions.
"Home bars tend to be small, so you'll want to be sparing with your ingredients and tools. This isn't a bad thing, as it'll mean you have less clutter and once you finish a bottle you can try something else."
He explains that if you're strapped for space, you might want to even consider bottle dimensions. "That's what Caorunn Gin did with their new slim bottle design, which takes up less space and fits in a bartender's speed rail."
He advises a good bottle from each spirit category, liqueurs maraschino and triple sec, some vermouth and bitters: "You can make literally hundreds of cocktails with that selection."
That said, Daniele Umoette, who has travelled the world as a top mixologist for the last 15 years and is now also the UK brand ambassador for Absolut, insists on the following spirits, mixers and garnishes.
Traditional wheat vodka like Absolut Eyx
Solid gin like Plymouth Navy strength
Citrus vodka – Absolut citron 
Light rum and navy rum
Italian Aperitivo (Campari is a must)
Sweet vermouth
Couple of blended whiskies (Chivas 12 and JW Black)
Good blanco tequila, like Altos Plata or Fortaleza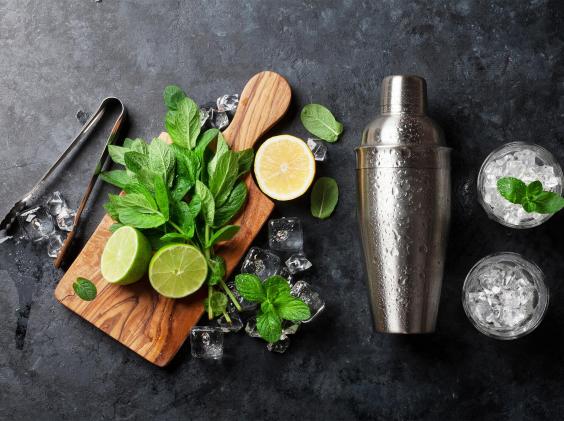 And finally…
Don't forget the mixers – you don't want your guests going home in a body bag. Presentation is everything: get some good garnishes in.
Gregson says Schweppes and Coca Cola are solid go-to mixer brands; "they're good quality and compliment drinks just fine for a home bar". He also suggests having a good selection of craft beers and a nice range of wine.
"If you're feeling experimental, then it's also worth trying different tonics and mixers. Fever Tree have a great selection of tonics, and don't be afraid to try out different herbs or fruits in cocktails."
The staples any decent home bar should have are:
Club soda
Tonic water
Coke or Diet Coke
Sprite or 7-up
Ginger ale
Juice (orange, cranberry, pineapple)
Angostura bitters
Pink grapefruits and lemons
Caster sugar
Cynar
Martell VSOP
We've partnered with Kahlúa to celebrate National Coffee Week and you could win an overnight stay at the Hoxton Hotel, Holborn, plus cocktails and dinner for two. To be in with a chance of winning, tell us which Kahlúa cocktail you'd most like to try by clicking here*.
*Terms Apply: 18+. Enter before 23.59 on 22 April 2018. Please read full Terms before entering. 
Reuse content
منبع مطلب : http://www.independent.co.uk/life-style/home-bar-spirits-equipment-essentials-tools-cocktail-hour-a8284456.html